"...Pine Pro keyboard feels like a unique entry into a market flooded with very similar offerings."
We're pleased to receive another nice review of our Pine Pro keyboard, this time from TestyTim.com.  You'll find Tim's review here Wombat Pine Pro - Open for Business (ofb.biz) and below.  Be sure to check out Pine Pro features for yourself here on this website and see why it's getting a big thumbs up from Tim and others!
Wombat Pine Pro
An Unfamiliar Name Proves Intriguing
Mechanical keyboard makers generally fall into two broad categories: established gaming peripheral companies and a series of upstarts, like Keychron and Epomaker, focused purely on mechanical boards. Wombat Keyboards is neither and, like the company, its Pine Pro keyboard feels like a unique entry into a market flooded with very similar offerings.
This is a part of the continuing series of TestyTim.com reviews on mechanical keyboards. You can read more, including a summary of what makes mechanical keyboards notable in general, in the review series overview.
A few weeks ago, I reviewed the latest board from early comer to the mechanical keyboard renaissance Das Keyboard. Like Das Keyboard, Wombat's parent company has been in the keyboard business for a long time — quite a bit longer than the makers of any other board I have reviewed so far, in fact. Key Source International's (KSI) early claim to fame was being the manufacturer of the keycaps for the Apple IIe forty or so years ago.
While KSI has occupied itself with making commercial keyboards for point-of-sales and medical systems in more recent times, with Wombat, KSI is aiming to sell directly to consumers. In fact, I learned about Wombat by seeing their ads on Facebook and wrote the company for more information. They graciously agreed to lend us a Pine Pro to give their wares a spin — or, rather, a type.
The Pine Pro has an attractive and distinctive appearance, with a robust plastic bottom topped with a sturdy, anodized aluminum front plate. The metal top is available in a variety of colors that would coordinate nicely with Apple's colorful M1 iMacs or several more staid options that should go with pretty much any office setup.
The plastic bottom has a few essential shortcuts printed on it (nice for those of us with a penchant for losing manuals) and an embossed ruler for measuring things. It has rubberized fixed feet on the back alongside two sets of pull down "legs" that make the keyboard height adjustable to one's preference.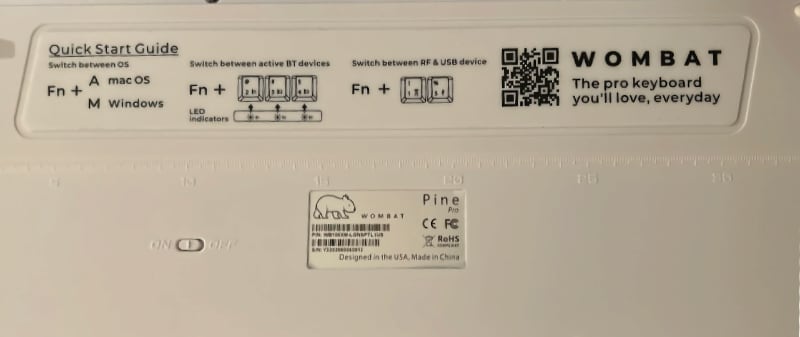 Putting some core key combinations on the bottom is a great idea and so is the ruler, which we've only otherwise seen on the Das Keyboard 4. (Credit: Timothy R. Butler)
While the Das Keyboard MacTigr's all metal design is the sturdiest feeling keyboard I have put through the paces, I'd rank the Pine Pro quite highly — much akin to the Keychron K8 Pro I'm presently testing or the Das Keyboard 4 Pro I tested last year. That is to say: this board does not creak or wobble. The robustness of it gives a sense of confidence as one types. If you have not tried a really sturdy board before, typing on one such as this Pine Pro is a striking experience.
The keycaps harken back to KSI's long heritage. Unlike many recent boards, they've opted for a very traditional OEM profile and a texture that seems reminiscent of the early days of personal computing. As that was the golden era for PC keyboards, I mean that as a compliment. The key caps may not look quite as modern as those from competitors, but they are exceptionally comfortable feeling thanks to their texture and thick molding.
Like other higher end keyboards, Wombat uses Cherry MX switches, which remain the gold standard. My test keyboard came with red switches, which when combined with the very solid construction and thick keycaps provided a quiet (for mechanical keyboard) typing experience that is satisfying. The classic shaped keycaps allowed me to type accurately and quite quickly, perfect for the serious touch typist.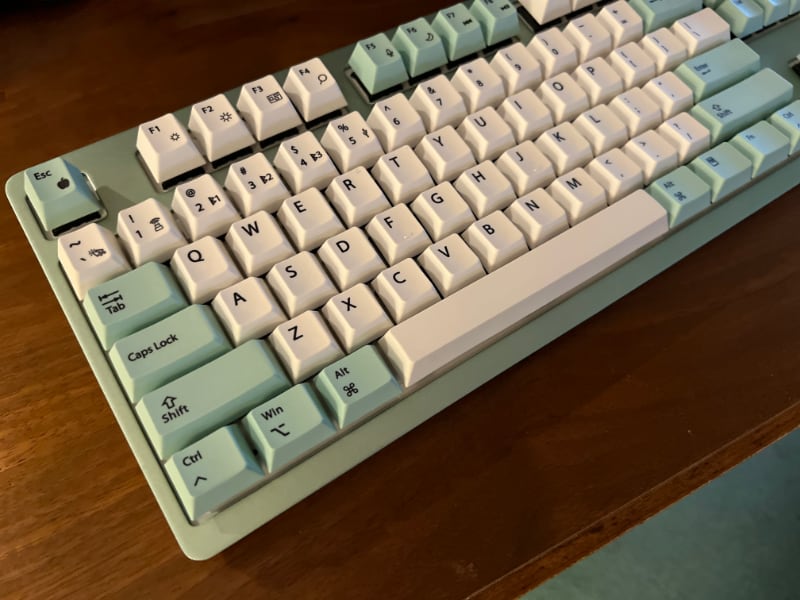 The keys aren't flashy, but they have a classic appearance and a delightful typing feel. (Credit: Timothy R. Butler)
While in some ways the keyboard harkens back to the early days of keyboards, it also has some very nice, modern features. The keyboard sports a full complement of Mac-friendly multimedia keys. Most of the keys work out of the box, although a few of them need to be setup on a Mac using Automator, a process Wombat outlines clearly in a series of easy-to-follow videos. While we've tested other boards that didn't require this extra step to activate the equivalent keys (such as access to Siri), the upside is that if you want the keys to do something different than they were originally intended to do, that's easy to arrange. For example, I took the key set aside for launching the calculator and set it to open notifications instead.
Unlike many programmable keyboards, which have a software program to install for configuration, Wombat's support for macro programming is a purely hardware affair. This might make programming macros slightly harder — using key combinations rather than point-and-click — but has the upside that you can skip installing the often half-baked software I have seen come with far too many keyboards.
The Pine Pro has another trick up its sleeve. As a full-sized keyboard with a numpad, Wombat offers the ability to convert that numpad — useful for those who do a lot of number crunching, but often ignored by others — into a "mouse," with arrow keys that can move the cursor around the screen. Several neighboring keys can function as left and right click buttons and two keys even are dedicated to scrolling up and down ala a scroll wheel.
While it won't replace a mouse for a lot of tasks, it is handy for a quick adjustment of the mouse pointer. The scroll wheel replacement buttons are even more useful throughout a normal day. And, for those like me who frequently forget to charge one's mouse, the whole arrangement is a fantastic stopgap while waiting for a mouse to recharge. It's a great way to make a full-sized keyboard's lesser used keys more useful — and their original functions are still a single button press away if needed.
Wombat also likes to make a big deal out of the inclusion of a dedicated emoji picker key. While a bit gimmicky sounding, most of us do use a fair number of emoji today and I've been surprised by how handy such a key is ever since Apple started including the "globe" key on recent iPad and Mac keyboards. Try it — you'll love it.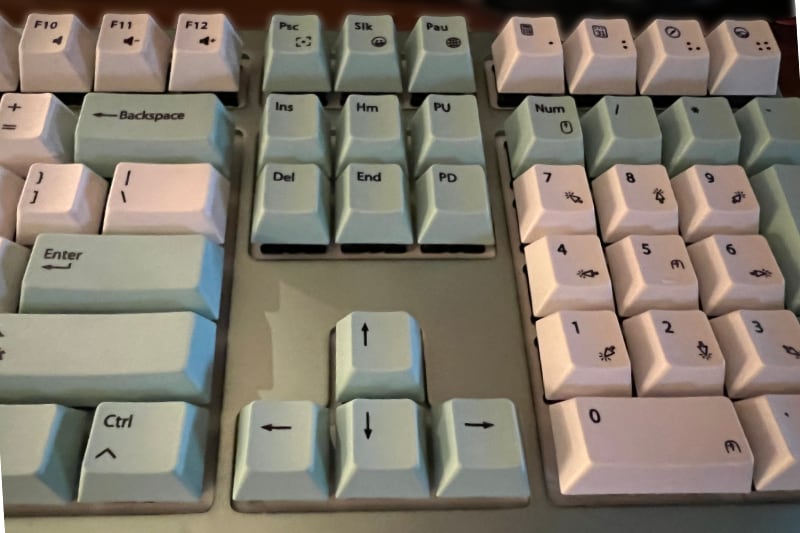 An emoji key and the "mouse" keys all are part of the flexibility the Pine Pro leverages from its full sized set of keys. (Credit: Timothy R. Butler)
Like most of the keyboards we test, this keyboard comes with Bluetooth support for multiple devices (three can be configured at a time) alongside wired usage. The Pine Pro is one of the fastest boards to "wake up" after inactivity amongst all the Bluetooth models I have used. Wombat also includes a proprietary 2.4 GHz dongle which claims better performance than Bluetooth and makes the keyboard appear wired to the computer, perfect if you want to use the keyboard wirelessly without configuring your system first.
I was pleasantly surprised to see that the keyboard included both a USB Type-C to USB Type-A and a dual USB-C cable out of the box, making for easy connectivity on either older or newer systems. While most boards today have USB-C port on the keyboard side, the plug-in for the computer is typically Type-A, which hasn't appeared on a Mac laptop in seven years. I appreciate Wombat didn't cheap out, but includes both types of cables. Likewise, the 2.4 GHz wireless dongle also came in both Type-A and Type-C versions in box, which is an incredibly nice touch I've never seen a company do before. Good for Wombat for making setup easier out of the box, whether one has a new or old system.
By and large, the Pine Pro does everything it claims to, with the only unexpected shortcoming I'd point out being a somewhat obnoxious low battery light. Rather than a steady blinking when the keyboard gets very low on power, it apparently starts blinking at 40% battery and blinks erratically while typing, giving something of a strobe effect. It's not a huge deal, but a more subdued, quiet approach that starts closer to empty would be nicer.
There are three issues that seem slightly odd for a keyboard of this price range. The battery itself is somewhat small amongst today's keyboards, especially at this price point. At just 1000 mAh, it provides weeks' worth of usage, but most of its similarly priced wireless competitors have 4000 mAh batteries, good for numerous months with LED backlighting turned off those boards.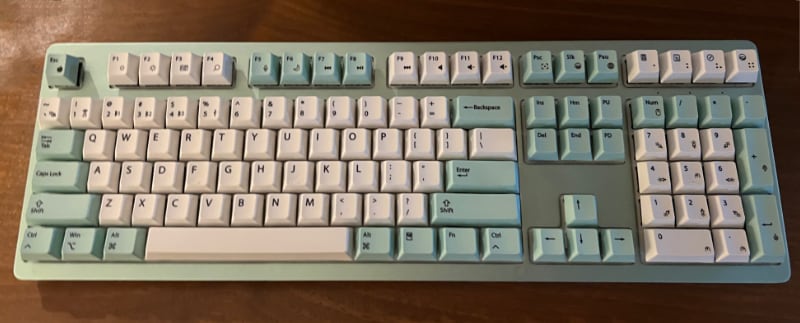 Our test model came in a pleasant green color scheme well suited to the product's name. (Credit: Timothy R. Butler)
Speaking of backlighting, this keyboard eschews any backlighting at all, much like the MacTigr I tested a couple of weeks ago. That decision conserves the smaller capacity battery, but also seems slightly odd at this price range. Whether this omission is a concern or not is really a personal preference.
Finally, while most will probably never take advantage of such a feature, it'd be nice if the Wombat had hot swappable switches. The ability to remove and replace switches often appeals to gamers that want to customize their board, but a more practical point is that if a switch fails, it's nice to be able to pop it out and replace it with a working one, something my colleague Eduardo has taken advantage of to revive his keyboard.
These quibbles are worth noting, but are not huge. Those aside, the Pine Pro is a really pleasant, enjoyable board to use. While not as customizable as QMK-supporting boards like the similarly priced and built Keychron's K-series Pro models, the Wombat board's features tick the right boxes for most users and deserve consideration. Priced at the upper-middle end of the market, its issues are minimal while the rigid construction and a nice variety of features make it a genuine pleasure to use. 
Update (November 17, 2022): Clarified that both Type-A and Type-C versions of the USB dongle are included in the box.